HABD VINYL BANNERS!
Our HAVE A BANNER DAY VINYL BANNERS are the perfect addition to any event.
Let us help you brighten your front yard for a celebration or make a statement for a special occasion or event!
Banners are printed on 14oz heavy duty vinyl. We offer predesigned banners, predesigned banners that can be personalized and custom banners designed with you from scratch to completely fit your vibe!
Shop Now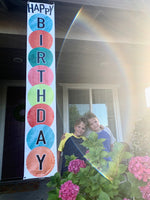 Scatter with us @scatterandcreate